With its comfortable furniture, natural lighting, garden deck, tiered seating area, study rooms and quiet nooks, the Library is a much-loved hub of the College.
The Library holds an extensive collection of fiction and non-fiction books as well as digital resources to support student projects and learning. Students are able to access the online Catalogue to search and borrow resources.
Students are also able to access our eLibrary anywhere, anytime on multiple devices to borrow from an extensive digital collection of eBooks and Audiobooks.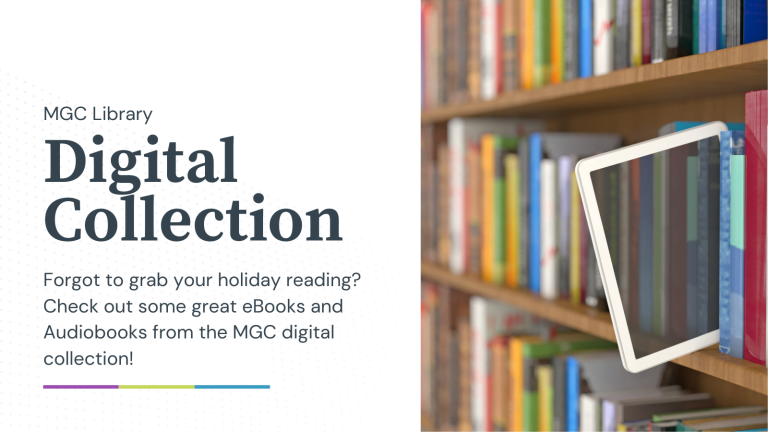 Forget to grab your holiday reading? Check out the MGC eResources collection!
The MGC Library has a great online collection which gives you access to eBooks and Audiobooks that MGC students can borrow from home. If you would like access to the eBooks or Audiobooks and are uncertain of the process, download the cheat sheet in the related documents below.

Young Adult and Adult fiction collections, Non Fiction, magazines and foreign language titles.
Access to the Digital Edition of The Age for all students while on site.
Online resources accessible through the library web page; including ANZ Reference Centre and Echo Educational Issues.
Wheelers ePlatform eLibrary content, including eBooks and audiobooks.
Multimedia Resources for loan including: digital still and movie cameras, Polycom Video Conferencing System, time lapse cameras and data projectors.
Multimedia Collection including Clickview Media, DVDs and BluRays.
Resources for staff and students include: laminators, guillotine, photocopier, printers, scanner, scientific calculators, headphones and stationery.
Students can also access a large variety of reference materials.
Flash Fiction writing competition Years 7 – 9
Book Club
Writing Club
Chess Club
Guest author visits
Suggestion Book – we are responsive to our students' ideas for improving our service and suggestions for purchasing resources.
| Day | Time |
| --- | --- |
| Monday | 8.00 am – 4.30 pm |
| Tuesday | 8.00 am – 3.30 pm |
| Wednesday | 8.00 am – 4.30 pm |
| Thursday | 8.00 am – 4.30 pm |
| Friday | 8.00 am – 4.00 pm |
| Saturday & Sunday | CLOSED |
Standard operating hours may vary due to College activities or staffing needs. Our Library staff welcome ideas and feedback and can be contacted by email library@mgc.vic.edu.au  or by telephone via reception 9428 8955.